Breast Reduction in New York
Of the very many breast procedures we perform for women in New York, breast reduction surgery may be the most rewarding for our patients. Women who have endured heavy, pendulous breasts for years find there's nothing like the feeling of physical and psychological freedom breast reduction surgery can deliver. Suddenly, neck, back and shoulder aches are gone. Deep bra strap grooves and rashes disappear, and so does the pain of unwanted attention.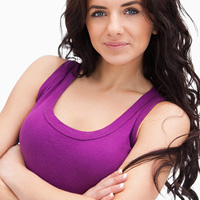 See Before and After Breast Reduction Photos
Each patient seeking breast reduction in New York with us receives an individualized surgical plan just for her. During our consultation, we take extensive measurements and prepare photos and drawings to guide us. We conduct a thorough examination to evaluate breast characteristics and health. And we have an open discussion about key objectives such as final size after surgery.
Ready to get started? Request a consultation with Dr. Jacobs today to see what breast reduction surgery might accomplish for you.
Our Breast Reduction Philosophy
When you come in for your appointment, we'll map out a strategy for removing excess skin and breast tissue, elevating the nipples to a more youthful position and lifting the entire breast off the chest wall. We'll make note of any fat deposits – such as in the front of the armpits or along the sides of the chest – that can also be removed during surgery. If your breasts are asymmetrical, we will address that as well.
Dr. Jacobs is a board certified plastic surgeon with more than thirty years of experience in breast reduction for men and women. His goal is to create natural-looking, proportional breasts that will enhance your lifestyle rather than hinder it.
Breast Reduction Overview
The procedure usually begins with an incision around the areola. For most patients, the incision continues down toward the fold of the breast – the classic "lollipop" incision. Some women require incisions extending underneath the breast, called "inverted T" or "anchor" incisions. Scars along the edge of the areola are almost invisible. Scars under the breast will be permanent, but they'll fade over time and usually become barely noticeable.
A few women may be candidates for liposuction-only breast reduction, and some benefit from a combination liposuction/peri-areolar procedure. Dr. Jacobs will walk you through the options during your consultation and guide you to the choice that's best for you.
Recovery from breast reduction surgery involves a few days of soreness and a week or two of some bruising and swelling. Most patients take pain medication for a few days, return to light work in a week or so and gradually add more strenuous activities over the next few weeks. Your new shape will be evident soon after surgery, but healing will continue over the next several months.
A comment we hear often from our New Jersey and New York breast reduction patients is, "I wish I had done this sooner!" (Take a look at some of our before and after breast reduction photos to see some of our patients' results.) If you don't want to wait any longer, contact us online or give us a call at 212-570-6080.
Breast Reduction FAQ
Will insurance cover breast reduction surgery?
Unfortunately, insurance companies don't automatically cover breast reduction. To make a successful claim, document physical and emotional challenges, doctor visits and so on. Talk with your insurance company about what the requirements may be. Our office staff can help, and assist you with information on fees and financing as well.
Will I still have nipple sensation?
Sensation may be interrupted in the immediate post-op period, but nipple sensation gradually returns for most breast reduction patients. Some women experience permanent diminished sensation.
Can I breastfeed after breast reduction?
Many patients are able to breastfeed after breast reduction surgery, depending on the technique used and the amount of tissue removed. Some patients are not able to nurse a baby after surgery. This is an aspect of your procedure we will discuss frankly with you during your consultation.