Liposuction in New York
There's more than one reason liposuction is the most popular cosmetic procedure across the country and right here in New York. Liposuction is versatile, for one thing. It can be performed as a stand-alone procedure, or it can put the finishing touches on just about any cosmetic surgery you can think of for the face, breast and body.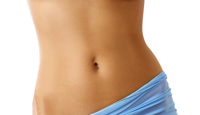 See Before & After Liposuction Photos
Liposuction is also sought after by both sexes. It's the number one procedure for men and number two for women, according to the American Society for Aesthetic Plastic Surgery. Finally, almost everyone, including people who are slender, has a little bulge, roll or pooch they just can't get rid of. Fat deposits like saddle bags are controlled by your genetic makeup, not by how many miles you log in Central Park each morning.
Come in for a consultation with Dr. Elliot Jacobs and find out what his nearly thirty years of experience performing liposuction could mean for you.
Our Liposuction Philosophy
Since its introduction in the U.S. three decades ago, liposuction has become increasingly refined and body contouring has become safer and more effective in the hands of experienced, board certified plastic surgeons. Many trendy methods for zapping fat have also appeared on the scene, but few, if any, come close to delivering the results liposuction can achieve. Over the years, Dr. Jacobs has incorporated the best new techniques in traditional liposuction and added some of his own-leaving the array of liposuction "alternatives" to other doctors.
Dr. Jacobs works with almost equal numbers of men and women and he understands their varying needs. Men are often interested in body contouring around the torso, or in conjunction with male breast reduction, and Dr. Jacobs is adept at handling the dense fatty tissue men tend to have. Women often want liposuction of the hips and thighs, or as an integral part of a mommy makeover, and Dr. Jacobs is skilled at creating smooth, natural curves.
With so much experience to his credit, Dr. Jacobs has performed body contouring surgery for thousands of patients in New York. Liposuction and revision liposuction at our practice are gentle, safe procedures and patients are pleased with their results.
Liposuction Overview
To perform liposuction, Dr. Jacobs will make tiny incisions, carefully placing them where faint scars will not be noticeable. He'll inject fluid into the target areas – a sterile saline solution containing anesthetic and medication to reduce bleeding. The slender tubes called "cannulas" he uses gently push blood vessels and nerves aside while dislodging fat, causing minimal internal trauma. He suctions fat away, leaving a honeycomb of natural tissues behind.
After Dr. Jacobs closes the small incisions with dissolving sutures, he'll place you in a snug, post surgical garment. The purpose is to compress the honeycomb of tissues to minimize fluid buildup and aid the skin in tightening. You'll wear the garment for about a month, removing it to bathe.
For most patients, we perform surgery in our accredited surgical suite under twilight sedation, a relaxed sleep that usually leaves no after effects. You'll be in the care of an M.D. anesthesiologist and a very experienced surgical team the entire time.
During liposuction recovery, you will experience some swelling, bruising and numbness. These will gradually disappear over several days to a few weeks. Pain medication will be prescribed for you in case you want it for the first few days of soreness. You'll be comfortable performing light activities within days, and you should be able to return to office work in a week or even less. Dr. Jacobs will help you set the pace for returning to more strenuous activities and workouts over a few weeks' time.
As your tissues tighten, you will first notice some firmness. Gradual softening will occur over the next few months as your body goes through the final stages of healing. If you're like most patients, you'll notice an immediate difference in your body contours, and you'll be very pleased with your final results. View some of Dr. Jacobs' before and after liposuction photos and you'll see what's possible.
Contact us online or call at 212-570-6080 to arrange a body contouring consultation.
Liposuction FAQ
Can the fat that's removed be transferred to other areas?
Yes, Dr. Jacobs offers fat transfer to the breasts and other areas of the body. During liposuction revision surgery, harvested fat is also frequently used to fill unnatural craters and valleys that may have been created during a primary procedure with an inexperienced doctor.
Can I have liposuction if I am overweight?
Liposuction is not a weight loss treatment. Candidates should be near their ideal weight and simply seeking body contouring for stubborn fatty pocket around the abdomen, flanks, hips, thighs, knees, breast or chin. In some cases, liposuction can turn a good body into a great body! But it will not result in substantial weight reduction.
Can the fat return after liposuction or appear in other areas?
Liposuction permanently removes fat cells from the treated areas. Dr. Jacobs never removes all the fat cells, however, since doing so would cause unsightly depressions in the skin. If you gain substantial amounts of weight after liposuction, the remaining fat cells in the treated areas can certainly become enlarged, as can fat cells in untreated areas. The best thing you can do for yourself after liposuction is maintain a stable weight.
Can I have liposuction along with another procedure?
It's very likely that you can have liposuction with another plastic surgery procedure. In fact, many surgeries, such as abdominoplasty, are rarely performed without a liposuction component! Come in and talk with Dr. Jacobs about what you have in mind. He will let you know what's possible for you.