Risperdal & Gynecomastia
The media buzz surrounding Risperdal and gynecomastia has been loud and persistent. It's no wonder, really, as the story has all the ingredients of a good drama, including victims, investigations and controversy.
At the center of the tale are men and boys who took the Johnson & Johnson drug and subsequently developed gynecomastia. Proving Risperdal is the one and only cause in every case is impossible, but when patients who took Risperdal arrange gynecomastia consultations in New York with us, a thorough examination and medical history may lead us to surmise that the drug likely played a part. Here's how the relationship works.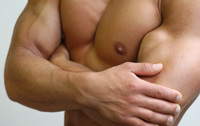 Visit Dr. Jacobs' Website Dedicated to Gynecomastia
Risperdal has a tendency to increase the levels of prolactin, a hormone secreted by the pituitary gland. While prolactin has a variety of roles in humans, one important one is to stimulate the growth of breast tissue and milk production. For many men and boys who were prescribed Risperdal for bipolar disorder and other psychological issues, this means man boobs developed as a side effect.
While it may not be possible to prove the connection, we can offer our patients resolution in the form of male breast reduction surgery. We have performed more than 2,500 gynecomastia operations in our many years in practice in Manhattan, and our patients include those whose condition seems to have a cause, such as Risperdal, and those whose gynecomastia arose for unknown reasons. The operation produces permanent results, and most patients are delighted to banish the man boobs and get on with their lives.
If you're looking to learn more, read an overview of gynecomastia surgery, check out our gynecomastia FAQ and take a look at some before and after gynecomastia photos.
The story of Risperdal and gynecomastia has been unfolding for many years. Several studies have been published over the course of more than a decade that link the drug with man boobs. Investigations using Johnson & Johnson insiders wearing wires have demonstrated that the company promoted the drug for uses and populations beyond what was approved by the FDA. Johnson & Johnson settled with the federal government and several states late last year, and numerous individual cases are being litigated now.
Legal advice is not our field, but gynecomastia treatment is. We have worked with male patients for more than three decades, in fact, nearly half the patients we work with in our practice are men.
If you have man boobs that may have been brought on by Risperdal, chances are you are dealing with many related challenges. The best way to evaluate the options for addressing the physical aspects of the issue is to come in for a consultation. We can help educate you about gynecomastia, answer all your questions and present a surgical strategy you can consider. The final decisions are yours to make. Whatever course you take, you will leave our offices better informed. Give us a call at 212-570-6080 or contact us online to take the next step.