Liposuction Revision in New York
Although the procedure has been around for many years and there are many qualified cosmetic surgeons in New York City, liposuction patients can still end up unhappy with their results. Why? Sometimes, men and women who are on a budget may choose an inexperienced provider, especially if they don't know the difference between someone who has taken a short course and a board certified plastic surgeon with years of training.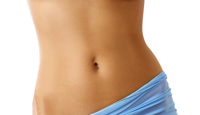 See Before & After Liposuction Photos
In some cases, a doctor may be overaggressive in removing fat, causing unnatural dimples and craters. Other times not enough fat is removed. Doctors who lack training and experience may not thoroughly appreciate what it takes to sculpt the human form, and patients in their hands can end up with areas that look oddly lumpy, rippled, flat or shelf-like. If this is the case for you, know that in the right hands your results can very likely be improved.
Dr. Elliot Jacobs has been performing liposuction for New York and New Jersey patients, as well as people from other states and countries, longer than just about any other plastic surgeon in New York City. Liposuction and corrective liposuction are two of his specialties.
Come in for a consultation with him soon.
Our Liposuction Revision Philosophy
Revision liposuction is undeniably more difficult than the initial surgery. One of the factors that makes the procedure tricky is scar tissue, which may need to be removed or worked around. Irregular areas will likely require a combination of additional liposuction plus fat grafting or fat transfer. Lumps and shelves need very precise fat removal with a fine touch.
Our approach to corrective liposuction starts with an in-depth consultation. Bring pre- and post-op photos, along with the operative report, if these are available. Dr. Jacobs will examine you thoroughly, then give you his honest assessment of what can (and in some cases, can not) be achieved. He will offer his observations and recommendations, then work with you to develop an individualized surgical plan to address your particular needs.
While some cosmetic surgeons don't offer revision liposuction due to its technical difficulty, Dr. Jacobs' decades of experience in the field enable him to correct contour problems with confidence.
Liposuction Revision Overview
Dr. Jacobs will follow the surgical plan he created for you, refining it as the corrective liposuction procedure progresses. At the conclusion of surgery, he will close your tiny incisions and put you in the familiar compression garment. From there on, recovery will progress much like it does for first time liposuction procedures.
Most patients have surgery in our fully accredited surgical suite under twilight sedation-a relaxed sleep that most often yields no post-op "hangover." If you had general anesthesia your first time around, this may be a welcome change!
Dr. Jacobs will monitor your recovery journey right along with you. He'll advise you to be patient, as any scar tissue left from your first surgery will not behave the same way as other tissues during the healing process. Over time you will see your new contours take shape. The final result may not be "perfect," but you can expect improvement over your original surgery.
While demanding, revision liposuction is also very rewarding. Dr. Jacobs would be pleased to meet with you and share his skills so you can feel better about your looks. Call him at 212-570-6080 to arrange a consultation.
Liposuction Revision FAQ
Is it possible I'll need more than one procedure?
Dr. Jacobs will make every effort to see that corrective liposuction involves just one surgery for you. It is possible, however, that you may need additional treatment, particularly if fat transfer is involved. You can discuss this and any other concerns you may have during your consultation.
I had a bad experience the first time, how can I trust you?
Ultimately, the decision whether to trust any doctor should come down to three factors: research, a personal meeting and your gut feeling. You can start by reading up on Dr. Jacobs' background. You can also research what others have to say about him on sites like gynecomastia.org and others that rate doctors. Finally, come in and meet him in person. Then, trust your instincts.
How can I sort through all the liposuction choices today?
The single most important thing you can do to ensure good liposuction results is to choose your plastic surgeon wisely. Look for number of years of experience, board certification (by the American Board of Plastic Surgery), a robust gallery of impressive before and after liposuction photos and satisfied patients.