Mora's Facelift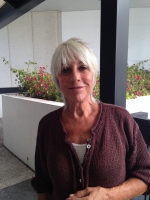 Mora's fresh new look
Still Mora, But Better
Many plastic surgery patients make the decision to "have work done" at the same time they reach another milestone in their life. Mora, a realtor in her late 60's from Miami Beach, is one of those people.
After her husband was diagnosed with a rare neurological disorder a few years ago, Mora relocated with him to Florida from New York. The couple had been together since Mora was 13 years old, and she wanted to live in a place where it would be easier to care for him at home. "It was like a terrible combination of Parkinson's and ALS," Mora says about the disease. She knew what was coming.
As her husband's disease progressed and it became more challenging to care for him, Mora noticed she appeared increasingly haggard and often felt incredibly drained. She was committed to her husband forever, as she always had been, but she occasionally looked ahead and tried to envision the next phase of her life. One thing she thought about planning was a facelift and neck lift. "It may sound strange," she says, "but I needed something to look forward to." She noticed saggy neck skin every time she looked in the mirror, plus deep wrinkles around her mouth. "Everything was kind of hanging."
Her husband passed away in March after he and the family endured some very difficult times. A few months later, Mora scheduled plastic surgery in New York City with Dr. Elliot Jacobs. She had seen "Dr. J." years ago for eyelid surgery and was pleased with the outcome, then she elected a forehead lift a little later. Dr. J. has also performed a few rejuvenating non-invasive treatments for Mora over the three decades she has worked with him.
Mora remembers getting reacquainted with Dr. Calvello, Dr. Jacobs' long-time anesthesiologist, the morning of her facelift. She laughs when she recalls Dr. Calvello picking up her file and saying, "Now this is a thick folder!"
Mora's most recent cosmetic surgery went as smoothly as her previous procedures. "It was a wonderful experience," she says. "I tell people it was not painful. Was there discomfort? Yes. Pain? No."
She went out to dinner with friends four or five days post-op knowing she still looked swollen and a little raw from a chemical peel Dr. J. administered under Mora's eyes and around her mouth. She saw the same friends two weeks later at a wedding. "They said I looked terrific!"
Mora is pleased that her facelift and neck lift aren't obvious. "No one has said, 'Oh, you had plastic surgery.' They say, 'You look great, have you been away?' When I tell them I had surgery, they say, 'You did?'"
What Mora appreciates most about her refreshed appearance is that she doesn't look like a different person. "I still have a few wrinkles. I'm supposed to! I don't want to look 22 years old—I'm not 22! I still look like me."